𝗧𝗵𝗲 𝗺𝗼𝗻𝘁𝗵 𝗼𝗳 𝗠𝗮𝘆 – 𝗖𝗮𝗺𝗽𝗮𝗶𝗴𝗻 𝗼𝗻 𝗣𝗿𝗼𝗺𝗼𝘁𝗶𝗻𝗴 𝗛𝗲𝗮𝗹𝘁𝗵 𝗮𝗻𝗱 𝗛𝘂𝗺𝗮𝗻 𝗥𝗶𝗴𝗵𝘁𝘀 𝗼𝗳 𝘀𝗲𝘅 𝘄𝗼𝗿𝗸𝗲𝗿𝘀 𝗶𝗻 𝘁𝗵𝗲 𝗿𝗲𝗴𝗶𝗼𝗻𝘀 𝗼𝗳 𝗨𝗴𝗮𝗻𝗱𝗮 𝘁𝗵𝗿𝗼𝘂𝗴𝗵 𝗰𝗼𝗻𝗱𝘂𝗰𝘁𝗶𝗻𝗴 𝗿𝗲𝗴𝗶𝗼𝗻𝗮𝗹 𝘀𝘁𝗮𝗸𝗲𝗵𝗼𝗹𝗱𝗲𝗿𝘀 𝗱𝗶𝗮𝗹𝗼𝗴𝘂𝗲 𝗺𝗲𝗲𝘁𝗶𝗻𝗴𝘀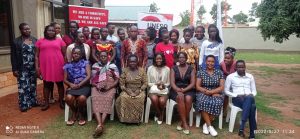 The campaign was concluded by UNESO having its final regional meeting held in the Northern region, in Lira district at Pacific Grand Hotel on 27th/May/2022.
The meeting brought together key district stakeholders including Hon Deputy speaker – Lira city, Hon speaker of Lira city – west division, representatives from the RCC office and City Health Office, HIV focal persons, CSOs / partners in the district such as HRI, and sex workers on the round table.
The meeting was geared towards forging a way forward on how to promote and protect the health and human rights of sex workers in the region, through addressing key mentioned issues that affect sex workers in the Northern region.
𝗦𝗼𝗺𝗲 𝗼𝗳 𝘁𝗵𝗲 𝗸𝗲𝘆 𝗶𝘀𝘀𝘂𝗲𝘀 𝗮𝗿𝗲:
Lack of a GBV rehabilitation centre,
Limited access to HIV prevention and treatment services especially during health worker strikes that are currently rampant,
Lack of DIC/safe space for sex workers in Oyam district,
Increased GBV, high community stigma, and discrimination towards sex workers and among others.
The meeting was concluded by stakeholders and sex workers laying strategies on how to work together to improve the health and well-being of sex workers in the region.